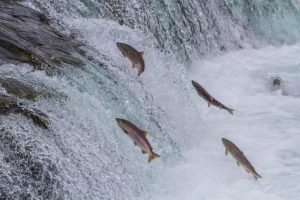 Making a good hire takes more than finding someone with right skills and experiences. A new (or existing) employee with a good behavioral fit can be the difference between your employee swimming downstream energized in a role while utilizing skills and experience to deliver results OR swimming upstream struggling to apply skills and experiences to deliver results.
Behavioral fit tends to be hard wired throughout adult life and can be seen in our drives for ownership/control, social interaction, stability and conformity. When an employee's behavioral drives are aligned with his or her role, they tend not to be noticed. Things just seem to work well with no ripples. When they are not aligned, they tend to be VERY noticeable like a rough sea.
Barry was frustrated. His two recent hires just were not working out, even though they both had the right experiences, were smart and very dedicated to the mission of Barry's nonprofit organization.
Amanda, his new lead researcher, with her outgoing, almost bubbly personality was struggling to stay focused on her first research project. Concentrating her time on one singular research project day after day was driving her batty. She needed variety and missed working in a chaotic environment with shifting priorities. She found the structured environment and rigid processes stifling. While Amanda excelled at producing research, almost every day, she missed the small team that she used to manage.
Jerome, his new grassroots manager, was struggling as well. Finding advocates who supported the cause of Barry's organization was easy, but managing four grassroots coordinators was driving him nuts. Their need for direction frustrated him, especially when they had the audacity to just walk into his office without first scheduling a meeting in Outlook.  If they had just taken the time to read the many emails he had sent them with step-by-step instructions, there would be no need for questions. The level of stress had him close to the breaking point.
Amanda and Jerome were each accomplished in their fields, but in environments that were very different from Barry's organization. Actually, from a style perspective, they were each fairly well suited for the other's role. Had Barry known Amanda and Jerome's behavioral preferences, he might have hired each of them into different roles, or perhaps not hired them at all. If Barry had taken the time and modest expense to have Amanda and Jerome take a behavioral assessment, perhaps he would have a lead researcher and grassroots coordinator who were swimming downstream energized, invigorated and productive.
Patrick Rogan, AUTHOR
For the past 25 years, Patrick has helped large and small organizations meet their strategic talent needs. He specializes in developing programs that help his clients attract, manage, and retain top talent. He is also a certified Predictive Index Consultant.