At IgnitionHR, we take a business approach to Human Resources.  Star employees are attracted to organizations that closely integrate employees to the needs of the business.  Let us help you attract, grow and retain your star employees.
IgnitionHR can help your organization with the systems, tools and processes needed to: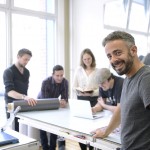 Hire Star Employees
Open New Candidate Sourcing Avenues
Market Your Organization to Top Candidates
Screen Candidates based on Skills, Behaviors and Style
Effectively Integrate New Employees into Your Organization
Grow Existing Staff into Stars
Align Employee Goals with Your Organization's Goals
Set Performance Expectations
Grow Employee Skills to Meet Your Current and Future Needs
Keep Your Stars
Grow Relationships
Manage Career Growth Expectations
Manage Compensation/Employee Rewards
Identify/Implement Morale Motivators
IgnitionHR partners with PI Midlantic to provide organizations with a methodology that delivers results by analyzing, aligning and optimizing their individuals, teams and leaders.
The Predictive Index System – A valid, reliable, behavioral based assessment that can give you proven results.
Pre-Employment
Team Building
Employee Development
Managing Change